2014 seemed to be a good year for Jirtchaya Klongjarn who became a millionaire. On a Friday, she headed to Chester City and placed a bet at Ladbrokes. Little did she know that these two bets of 1 Euro would make her a millionaire the moment the UK49s results were announced? When filling in the numbers, she managed to match the six numbers which netted her 1,000,990 Euros.
How She Selected the Winning Numbers
When people match numbers, they select them for various reasons. Some will have the important dates in their life or those of their loved ones. For the new millionaire, she picked her birth dates. While other numbers were picked at random, she, however, selected 8 and 12 due to her birthday. It's not common for people to win the UK49s jackpot as it happens once in a blue moon. Learn more about this thrilling lotto game at the website in this link.
A Second Win in the UK49s
She started her luck a few months ago before this big win. Earlier in the summer, she had tried to match six numbers randomly, but it seems she was not lucky. Although she had missed out on 200,000 Euros, Klongjarn who is originally from Thailand can attest she is a lucky player. She has won Euro 601 and losing out on the other bet did not discourage her.
Her hopes are what made her hit the jackpot. Whenever she played, she always believed that when the UK49s results were announced, she would be the biggest winner.
Excitment as a Student to Win the UK49s
Anyone would more than excited about the win, but she was over excited considering that she was an MBA student back then. According to her statement is that she barely slept after her win. This win is what made her the first female in Britain to win over a million in the UK49s.
She, in fact, booked a trip together with her friends to celebrate her win in Chester racecourse. When asked what she would do with her fortune, the 34-year old that she would be more than happy to share it with her mom who is located in her home county.
Ladbrokes Was Happy for the UK49s Winner
The 49s official also commented about her win. Speaking about the win, Alex Donohue, the spokesman of Ladbrokes said that they were happy for her.
Alex said that since this is a win that happens once in a blue moon, they were happy for Jirtchaya Klongjarn who defied all odds to hit the jackpot.
This was actually her second win in one year since she started participating in UK49s.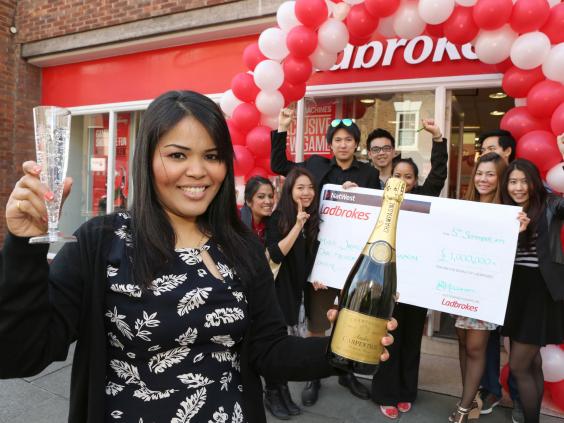 Among the gamblers who have participated in the 49s, Klongjarn standouts for most women. In the history of UK49s results, only 15 gamblers have become millionaires in the betting shop, and no woman has ever earned the status in this specific lottery.
She was the first one to do so. Since the win, her friends have considered her as the luckiest person amongst them. The UK49s creates a plethora of winners but only the lucky few break through the 5 figures mark and into million territory.
Were glad to see that at least one time it was a woman who won this huge amount. The lottery, as whole, is played by more men than women, which is why the winners are more likely to be men – the lotto isn't sexist! Even so, it's great to see all people win.